Stay Connected!
Not receiving our emails?
If you should be receiving emails from the HLSA of Northern California, but you're not, here are a few steps to take:
Make sure you haven't blocked HLSA emails, and that they're not getting stuck in your spam filter or some secondary Gmail filing structure. (Try adding hlsa@law.harvard.edu and email_watch@omnimagnet.net to your safe sender lists, or adjusting your Gmail filters.)

Check your HLSA profile to make sure your contact information is up to date, and you haven't opted out of receiving communications.

Log into this specific website, using your Harvard Key. Once you log in, you'll be added to our mailing list.

If you haven't yet claimed your HarvardKey, contact the HLS HarvardKey support line at +1 617-495-5631 or HLS Alumni Records at alumrec@law.harvard.edu.

Virtual Events
The Harvard Law School Association is encouraging virtual events for all Clubs and Shared Interest Groups due to COVID-19.
Should you wish to host a virtual event, please contact Meagan Flint at

mflint@law.harvard.edu

.

COVID-19 Update: Harvard University and Harvard Law School shifted to remote teaching and learning on Monday, March 23. For more information and the latest updates, please visit the

HLS coronavirus information page.
HarvardKey

HarvardKey is a secure login and password to streamline your access to several online alumni tools and benefits.
Visit

key.harvard.edu

to claim your HarvardKey today.

Need personalized help? Contact the HLS HarvardKey support line at +1 617-495-5631 or

alumrec@law.harvard.edu

.
Amicus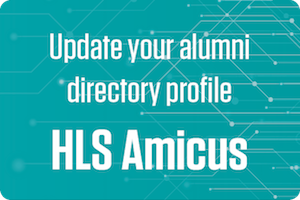 HLS Amicus is a community building tool, featuring an alumni directory, with advanced search and messaging capabilities.