Summer Reception
With Keynote Speaker Keith Rabois (Khosla Ventures, HLS '94)
Wednesday, July 26, 2017
6:00 p.m.
Penthouse of 101 California Street, 48th Floor, San Francisco 94111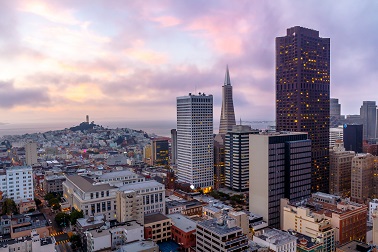 You are warmly invited to join fellow alumni and current students on Wednesday, July 26, 2017, from 6 to 9 p.m. in the penthouse of San Francisco's iconic 101 California Street tower for an evening of drinks, heavy hors d'oeuvres, sweeping city and bay views, and a talk by keynote speaker Keith Rabois (Khosla Ventures, HLS '94).
Keith is a top investor at Khosla Ventures, where he specializes in guiding early-stage startups into successful businesses. Keith joined PayPal when its monthly burn-rate was $6 million; he joined LinkedIn, Slide and Square when each had no revenue. Five companies Keith helped build are now publicly traded with market capitalizations greater than $1 billion and three others have been acquired for greater than $1 billion or are publicly traded IPOs. He has served on the Board of Reddit since 2013, the Board of Xoom (2003-2015) and the Board of Yelp (2005-2014). He is a co-founder of Opendoor and serves as its Executive Chairman. Keith's prior angel investments include: YouTube, Airbnb, Palantir, Eventbrite, Lyft, Quora, Mixpanel, Yammer, Skybox, Counsyl, Weebly, and Wish.
Please join us for sunset, drinks, and a lively discussion with Keith as he narrates his exciting journey from Harvard Law School to the forefront of technology, investing and business in Silicon Valley.
This event is open to alumni of all class years and current law students.
RSVP REQUIRED.
Questions? Please contact judyyuan@post.harvard.edu
When:
6:00PM - 9:00PM Wed 26 Jul 2017, Pacific timezone

Where:
Paul Hastings LLP
101 California Street 48th Floor
San Francisco, CA 94111 USA
[ Get Directions ]
RSVP Here...