Harvard Alumni Lunch With CA Assemblymen David Chiu (Harvard College, Law, Kennedy School) and Phil Ting (Kennedy School)
Lunch Discussion with Fellow Harvard graduates representing San Francisco in the California State Assembly

Friday, July 19, 2019
12 - 1 PM
Registration starting at 11:30 am; programs starts at 12 noon
Coblentz Patch Duffy & Bass LLP
120 Kearny Street (between Post and Sutter)
Suite 3000
San Francisco CA 94104

$10 for members and $20 for non-members (food and beverages provided: please note any dietary restrictions)

Registration deadline July 9, 2019

Please register with Harvard affiliation/class year. Names are needed in advance for building security. Let us know if any special requests/accommodations. Feel free to submit questions for our Assemblymen ahead of time along with event registration.
As a member of the California State Legislature, David Chiu represents the 17th Assembly District, which encompasses eastern San Francisco. He was first elected in 2014 and re-elected in 2016 and 2018. During David's first year, he served as Assistant Speaker pro Tempore; since 2016, he has served as Chair of the Assembly Housing & Community Development Committee. He also sits on the following legislative committees: Budget; Business and Professions; Judiciary; Arts, Entertainment, Sports, Tourism, and Internet Media. He also serves as Chair of the California Asian Pacific Islander Legislative Caucus.

During his first four years in the Assembly, David has authored 48 bills that were signed into law by the Governor. Among other efforts, the bills addressed the state's housing crisis, protected tenants, assisted LGBT families, upheld a woman's right to choose, promoted sustainable transportation options, and facilitated voting by young people.

Before joining the State Assembly, David Chiu served as President of the San Francisco Board of Supervisors for six years. With a reputation as a consensus maker, Chiu was the first Board President in San Francisco history elected by fellow Supervisors to three consecutive terms, and the first Asian American to hold the post. Chiu was first elected Supervisor in 2008 and then re-elected in 2012 to represent San Francisco's northeast neighborhoods of District 3, which includes the city's major tourism, retail, downtown and wharf areas. As Supervisor, David Chiu authored 110 ordinances across a wide range of policy areas, including affordable housing, job creation, public safety, healthcare, the environment, transportation, civil rights, language access, ethics and technology.

The son of immigrant parents, David Chiu grew up in Boston and received his undergraduate, law and master's in public policy degrees from Harvard University. In the mid-1990s, Chiu served as Democratic Counsel to the U.S. Senate Constitution Subcommittee. After moving to San Francisco in 1996, David Chiu served as a criminal prosecutor at the San Francisco District Attorney's Office and as a civil rights attorney with the Lawyers' Committee for Civil Rights. Chiu was also a founder of the public affairs technology company Grassroots Enterprise, where he served as Chief Operating Officer.

Before running for office, David Chiu was a hands-on leader in San Francisco. He served as a Small Business Commissioner, president of the Asian American Bar Association of the Greater Bay Area, board chair of the Youth Leadership Institute, Lower Polk Neighbors and the Chinatown Community Development Center, and board member of Partners Ending Domestic Abuse and Chinese for Affirmative Action. Chiu was elected three times to the leadership of the San Francisco Democratic Party. He has been named a Young Global Leader by the World Economic Forum, an American Memorial Marshall Fellow, and one of the "Best Attorneys under 40" by the National Asian Pacific American Bar Association.

David Chiu is married to Candace Chen. A third generation San Franciscan, Candace is a public interest lawyer who manages a refugee foster care youth program. Their son Lucas was born in February 2016.

Biography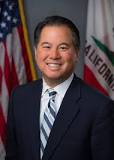 Phil Ting was elected to the State Assembly in 2012, representing the 19th Assembly District, which spans the Westside of San Francisco, as well as the communities of Broadmoor, Colma, Daly City, and South San Francisco.

As California navigates new challenges from the federal government, Ting is focused on protecting and persisting onward with progressive policies that expand opportunity for all, equal rights, and protections for our environment. Because of his experience in the financial sector and as the San Francisco Assessor-Recorder, Ting has become a leading voice on California's finances. He now serves as Chair of the Assembly Budget Committee after having served as Chair of the Assembly Committee on Revenue and Taxation.

Ting has authored legislation that:
Directs emergency aid to California cities and counties to address the state's homeless crisis;

Simplifies the Cal Grants applications process so that thousands more students can attend college;

Bolsters healthy eating by helping corner stores purchase refrigeration units and maximizing food stamp redemption at farmers' markets;

Ensures safe and equal restroom access and tax fairness for the LGBT community;

Rebuilds trust between police officers and the communities they serve by requiring disclosure of body camera footage;

Creates the first statewide drug and medical needles take-back program funded by the pharmaceutical industry;

Assess current and future electric vehicle charging station needs, as we move toward clean cars; and,

Streamlines the process for the design of safe bike pathways.
Ting is a graduate of U.C. Berkeley and Harvard University's John F. Kennedy School of Government. He began his career in public service as the Executive Director of the Asian Law Caucus, an organization founded in 1972 to advance and promote the legal and civil rights of the Asian Pacific Islander community, and once served as Community Relations Director at San Francisco State University. In 2005, Ting was appointed Assessor-Recorder of San Francisco by then-Mayor Gavin Newsom, where he closed a five-year assessment backlog and brought in $290 million in unpaid property taxes to the city, created a program to increase rooftop solar installations, and spearheaded efforts to assist homeowners and tenants facing foreclosure. Ting lives in San Francisco's Sunset District with his wife, Susan, and their two children.

https://a19.asmdc.org/
Event Organizers
Anders Yang
esq@post.harvard.edu

Cliff Yin
cyin@coblentzlaw.com